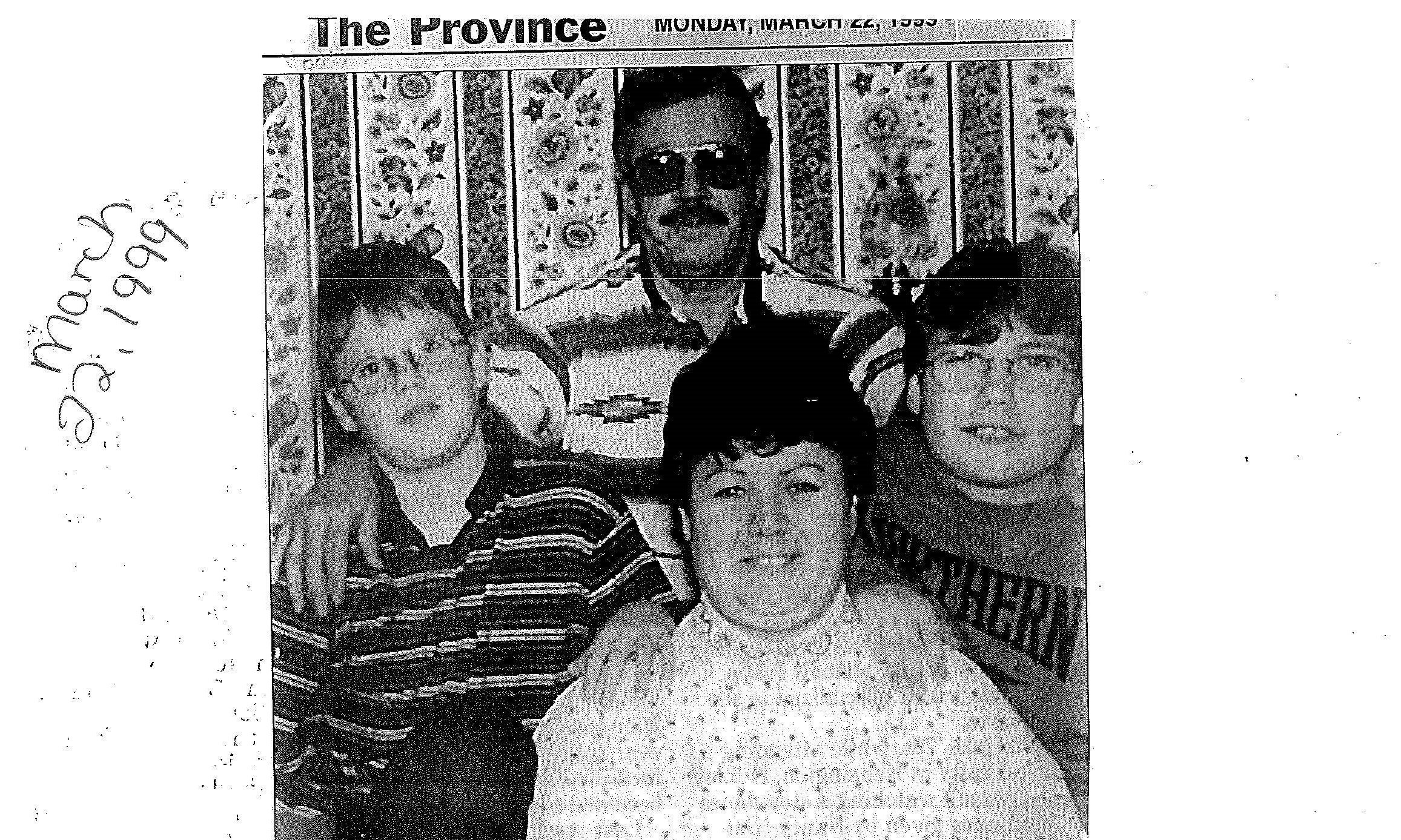 The First HFH PEI Partner Family
Eric and Janet Dawson and their children Daniel and Jenelle were selected as the first family to receive a Habitat Home on Prince Edward Island.

"We would probably never have owned our own home," Janet Dawson said in a telephone interview for The Guardian back in 1999.
Current Future Habitat PEI Homeowners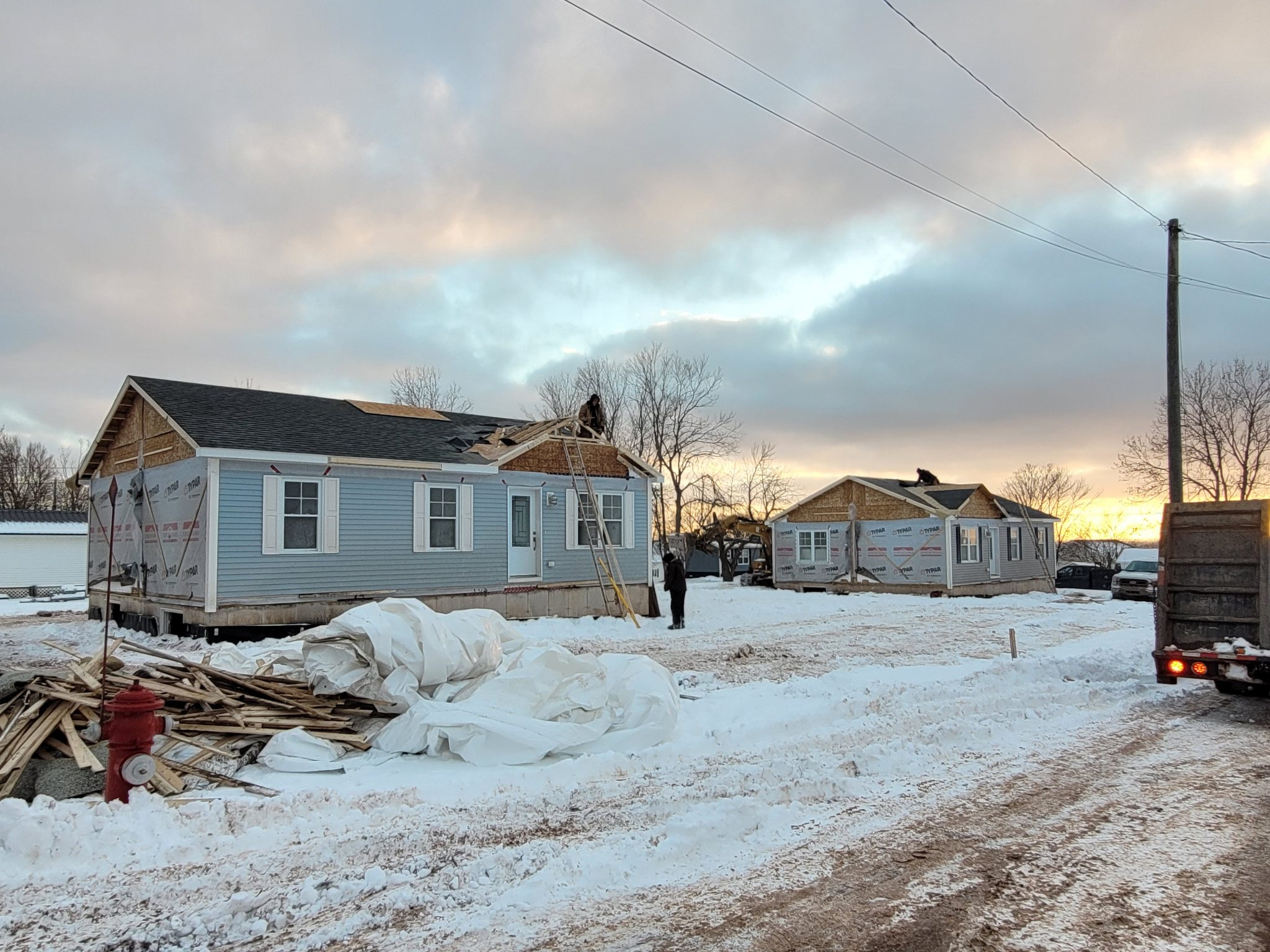 Georgetown and Souris Families
In December of 2022, we onboarded four new families to become future Habitat PEI Homeowners in Georgetown, and Souris PE.

These four builds was our first time working with modular construction.
Meet The Thayer Family
The Thayer Family is a family of 4, consisting of, father: Jamie Thayer, mother: Mandy Longaphie, daughter: Adaira (8), and son: Marik (2). They have 2 dogs (Copper and Raven) and a cat (Luna). They love to spend time together as a family, playing cards and board games, or going out for a walk with their dogs. Family time is very important to them.
After having to leave their rental home of 4 years, they had a difficult time finding a place to live, especially somewhere that accepted pets.
After looking for so long they decided to stay with Mandy's mother, in her basement. It was a very cramped living situation, with one living space and one bedroom to share between the 4 of them.
They had intended on only staying long enough so that they could save up enough money for a down payment on a house.
While staying there, they heard about Habitat for Humanity PEI and decided to submit an application.
Mandy stated, "it was the best thing we ever did!"
Their daughter, Adaira, is very excited to have her own room again and their son, Marik, will love having more space to run around.
The Father, Jamie, has worked 4 jobs to keep them afloat, and now he can work a little less and spend more of that time with his family again.
They are very thankful for this opportunity and for being selected for a Habitat for Humanity PEI Home.
The family exclaimed, "When we found out, we were actually very shocked. It definitely took a while for it to seem real."
They are excited to start creating memories in their new home.

Pictured: Mandy and Jamie with son, Marik, and daughter, Adaira
Meet The Taylor Family
Chelsey Taylor is a single mother to her 6 year old son, Hudson.
Chelsey has been working tirelessly, holding down 3 jobs, for the past 3 years to make their dreams of owning their own home come true.
The family's current home is quickly falling into disrepair and has mold and safety issues.
Chelsey's son, Hudson, is looking forward to having his very own yard to play in and having somewhere to put a swing set.

They are both looking forward to having a safe and reliable home to call their own.
Chelsey and Hudson are so excited to move into their forever home and are thrilled to become a Habitat PEI partner family.

Pictured: Chelsey with her son.
Meet The Gregory Family
Dawn Gregory is a single mother, with 2 sons, Landon, and Nathan. Dawn has always tried to work very hard to secure a safe and happy home for her little family, but for many years, it seemed like it was impossible for her to obtain an affordable mortgage.


Dawn had heard about Habitat for Humanity PEI through another build that took place in her hometown several years ago. Dawn was encouraged by friends to apply for a Habitat for Humanity PEI home and was thrilled to have been accepted and cannot wait to move into their new home.


Dawn proclaimed, "My children and I were so surprised and excited to learn we had been accepted for this home. I did not think at that time I would be accepted."


Dawn's sons, Landon, and Nathan are so excited to choose the paint colors for their new bedrooms and to be able to decorate their rooms.

Dawn will take great pride in owning her own home and making it a place she and her children can call home.


"Moving into this home will be a dream come true." – Dawn G.


Pictured: Dawn and her two sons.
Modular Construction
For these 2022-2023 modular builds, we worked with Premier Island Homes.
Meet The MacDonald Family
Kristin is a young single mom to her 5 year old son, Gunner. She moved out on her own when she was 19, and her son was 1. They moved into a small 1-bedroom attic apartment in downtown Charlottetown.

Kristin's son, Gunner, has a dust, dust mite, and dairy allergy along with asthma. She found it difficult to find a daycare that understood her son's health, which caused her to have to move again, to Summerside into a studio apartment with no windows or yard. The apartment they were living in started to affect her son's asthma, so she needed to find a place that was more fit for her son and within her budget. They moved to Margate to a motel that was renovated into a 2 bedroom, a small apartment with limited storage space. This place has mold and is near a few farms, which makes it impossible for Gunner to safely play outside with his allergy.

Through the years, she has worked hard and taken online college courses. She has graduated with her degree and paid off all of her college tuition. Kristin proclaimed, "During our journey, I have learned the meaning of working hard for what you want."

Kristin was tired of having to always move and worrying about when the next time will have to be. Kristin's coworkers had recommended she apply for a Habitat for Humanity PEI Home. Before Kristin found out she was pregnant with Gunner, she had volunteered on a Habitat PEI home build with her mother, so she looked into it right away and applied once she saw that Habitat PEI was building close

to her hometown. Buying a house has been on Kristin's bucket list for quite some time, and is so happy to have this opportunity to buy a clean, and safe home.

"Having a Habitat PEI Home is giving my family the chance to be self-reliant, to make roots, and call a place our own where we can love, make new memories, have our own space, and not worry about where we will be moving next and when." - Kristin M.

Pictured: Kristin and her son.
Meet the Martels
This young growing family came to Habitat for Humanity PEI so they could provide their children with a home and yard they can call their own.
The Martel's consist of parents Yves and Shari and their children Sierra, Miajoy, Josiah, and Nadya.
Their friends suggested several times that the family should submit an application to Habitat for Humanity PEI since the family was quickly outgrowing their current residence. Due to the fact they were able to fulfill the social determinants of their children's health, Yves and Shari felt they did not truly need housing assistance. However, due to a continual lack of space, the family decided to apply.
They were very excited upon learning the news they were approved and cannot wait until they can move into their forever home.
Meet the Bobo Family
Rosette Bobo is a single mother of three children, Meschack, Christel and Elda. Rosette has been residing in Prince Edward Island for the past five years where she has been working several jobs to provide for her family.
Rosette has developed and maintained a strong support system and has established a close friendship with other current partner families. She never imagined being in a position where she could secure a home for her children. Upon learning her application was approved she began crying tears of joy. Following the approval meeting, Rosette could be seen dancing in the parking lot. As a former refugee family in living Kenya for twelve years, the family is overwhelmed to become homeowners for the very first time.
Since 1996, Habitat for Humanity Prince Edward Island has helped 72 families build strength, stability, and self-reliance through affordable homeownership opportunities.

By shopping at our ReStore, donating, and volunteering with your local Habitat - you too can help more families in need of a hand up.